On Wednesday, September 28, for the first time in over 50 years, the Biden-Harris Administration is hosting a White House Conference on Hunger, Nutrition, and Health.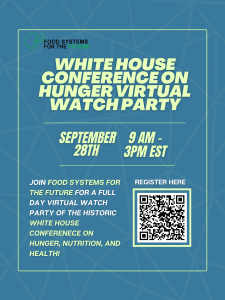 To celebrate this historic event, Food Systems for the Future (FSF) is hosting a virtual Watch Party!
FSF WH Conference Watch Party
September 28, 2022 | 9:00 – 3:00 PM EST 
At the conference, the White House will announce a new public-private sector strategy to address the food, hunger, nutrition, and health challenges experienced by millions of Americans and we invite community organizations, engaged citizens, those with lived experiences, and other stakeholders from across the country to join FSF's livestream of the event and engage in real-time with the policy discussions taking place in D.C. We hope you can join us!