Convened by
Charlie Hoffs - unBox
Registration Status
Registration is open
Registration Deadline:
Please review the details below for registration information if available or contact the Convenor if you would like to attend.
Geographical focus
National
Description
Jaleel Poole will be giving a talk and inviting an engaged discussion on the issue of food apartheid and racial disparities in the built environment, based on his work with the Stanley M Isaacs Neighborhood Center and research on social determinants of health.
Jaleel is a recent graduate of Denison University and will be attending Columbia University in Fall 2022 to obtain his Masters' of Public Health degree in Chronic Disease Epidemiology. He is passionate about health disparities in cardiovascular diseases and their connection to food apartheid (a term emphasizing the role of racist and oppressive structures in creating nutrient-deprived food environments) in disinvested, disenfranchised Black communities. Jaleel's interest for this subject emanates from having grown up in food apartheid and losing family members to diabetes and heart diseases who had a history of unhealthy eating because of limited, infrequent access to healthy, affordable, and culturally-appropriate food.
A core tenet of unBox's mission, to unite and empower young people to fight US food insecurity, involves connecting our community of students and recent grads with experts and mentors to help guide us in our work, and support us in joining—and one day ultimately leading!—the dialogue around moving towards a just, sustainable, healthy US food system.
Your input, feedback, and questions from your POV will richly add to our discussion! We hope you can call in, and please do invite any students or colleagues you think might be interested.
Acknowledgement
We are very grateful to Jaleel Poole for sharing his time and insight with our community, and for his active participation in unBox. We also very much appreciate the support of the Good Food Dialogues network and platform.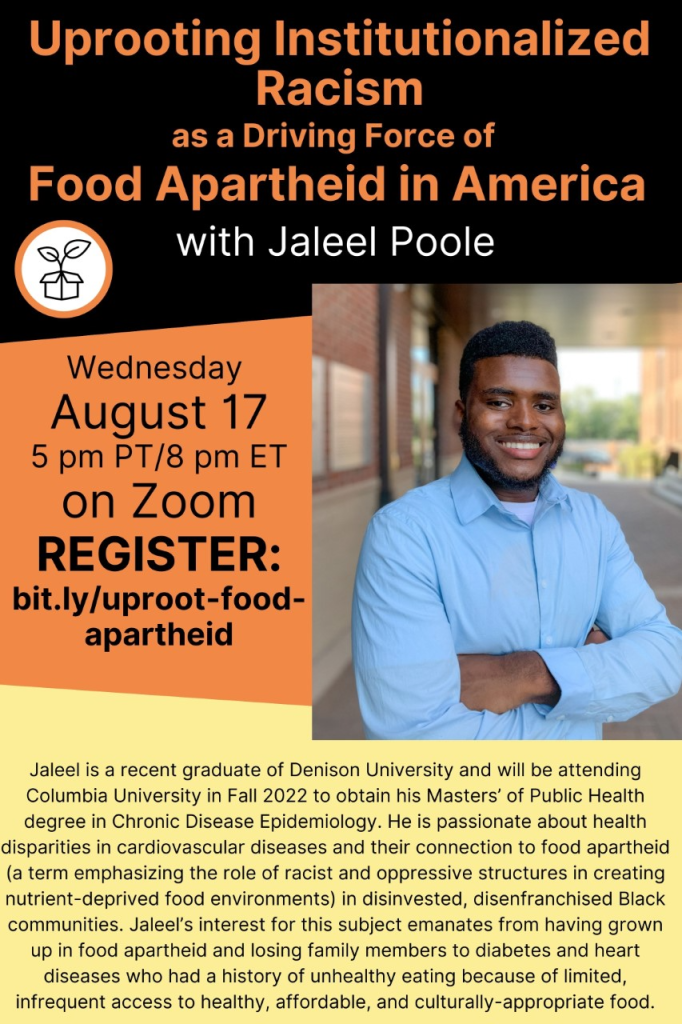 Image credit: Image created on Canva by unBox