Convened by
Steve Chiu; Buddhist Tzu Chi Foundation
Curator
Kelly Moltzen, Interfaith Public Health Network and Bronx Health REACH
Registration Status
Registration is open
Registration Deadline:
Please review the details below for registration information if available or contact the Convenor if you would like to attend.
Geographical focus
National
Description
The Faith and Food Coalition, which held Food Systems Dialogues before the UN Food Systems Summit, has begun to hold regional dialogues to narrow in on food systems challenges and solutions faced by faith communities in specific geographic regions.
At a time when the United States is planning a White House Conference on Hunger, Nutrition, and Health in late September 2022 – the first conference of its kind in 50 years – the Faith and Food Coalition will host a dialogue to uplift faith community actions and suggested policies and approaches needed to end hunger and increase healthy eating and equity in the U.S. by 2030.
As part of the Good Food Dialogues process, input from this session will not only be submitted directly to the White House for review, but will also feed into a larger synthesis report of policy ideas and innovations that will inform a movement mobilized far beyond the White House Conference on Hunger, Nutrition, and Health.
Participants will have the opportunity to contribute to the design of the national strategy to end hunger and reduce diet-related diseases and health disparities especially by sharing actions that faith communities are taking to promote well-being through diet and food systems transformation.
The dialogue is available for participation both in-person as well as virtually. Learn more at tzuchicenter.org/ClimateWeekNYC 
Acknowledgement
Faith and Food Coalition, Bronx Health REACH, Interfaith Public Health Network.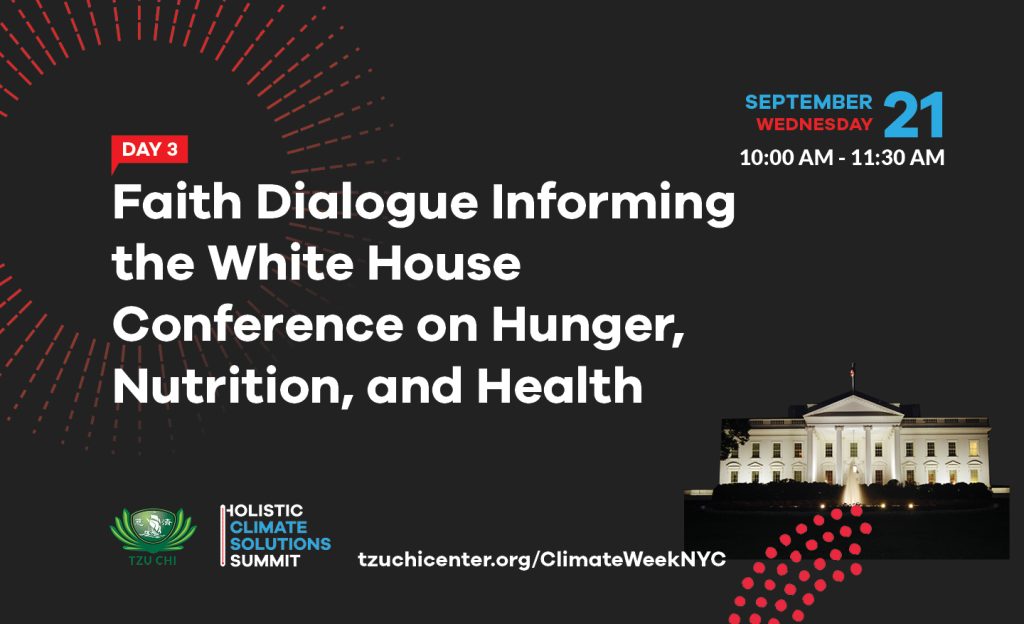 Image credit: Buddhist Tzu Chi Foundation